Mechanical Support Department 3D Printing
The introduction of 3D printing to the Mechanical Support Department has changed how our engineers approach problems. Because our inexpensive 3D printers allow plastic parts of great complexity to be produced rapidly at almost no cost, there is no longer an economic or time barrier to using iterative design methods. Instead of trying to get a design 100% correct on the first try, 3D printing enables our engineers to quickly make a 1st pass prototype, test it out for fit and function, and use their observations to inform the next iteration of a part. In a matter of a few days or sometimes hours, an engineer can perform several iterations of a design and arrive at an optimized part in far less time, and for far less cost, than conventional methods would allow. The proliferation of iterative design methods is the future of engineering, and Mechanical Support is embracing this methodology to improve efficiency and deliver better designs.
To aid in our efforts, we have two 3D printers. The first is our Ultimaker 2+ Extended. It can print parts in a variety of plastics, with excellent detail resolution and a maximum print size of 8.7" x 8.7" x 12". Most parts made on this machine cost a few dollars to produce. The printer is mounted on a mobile cart using custom 3D printed brackets, has a 3D printed tool holder, and a 3D printed large spool holder as well.
<![if !vml]>
<![endif]>
The second printer we have is a Fusion3 F400-HFR. This machine excels are producing large parts quickly, with a maximum part size of 14" x 14" x 12.6". We recently created a custom 25kg spool holder so that extremely large prints can be made without worrying about running out of filament.
<![if !vml]>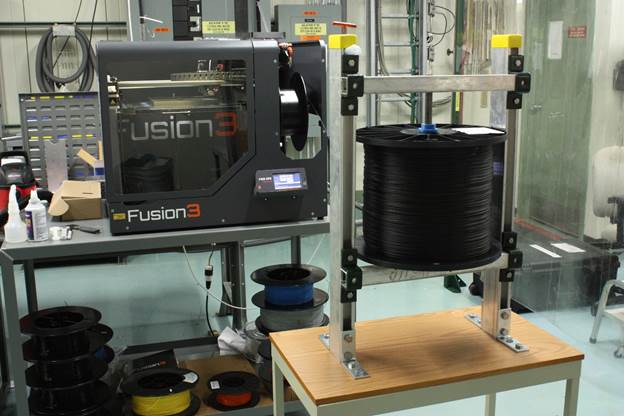 <![endif]>
Below is just a fraction of the things that have been printed on our machines in the past few years. The printers are constantly in use, and so this list will be updated over time to reflect new projects that have been completed.
Mu2e Target Prototype
This full-scale 3D printed assembly of the Mu2e target was used to aid physicists and engineers in spotting potential design issues. This assembly was also used to test and calibrate the target retrieval system until the real Mu2e target was completed.
<![if !vml]>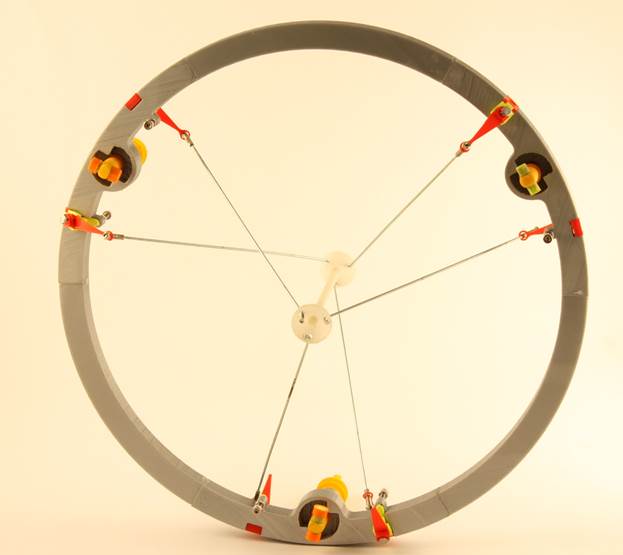 <![endif]><![if !vml]>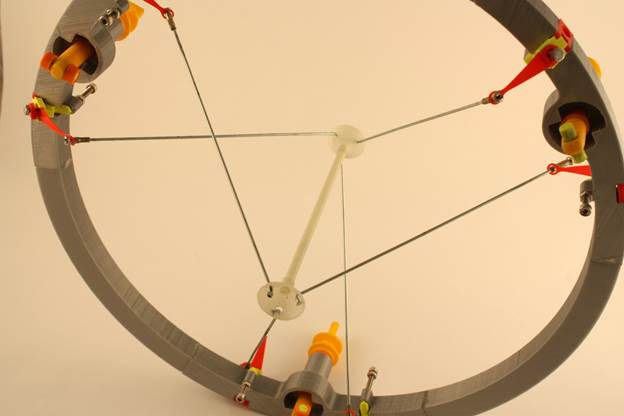 <![endif]><![if !vml]>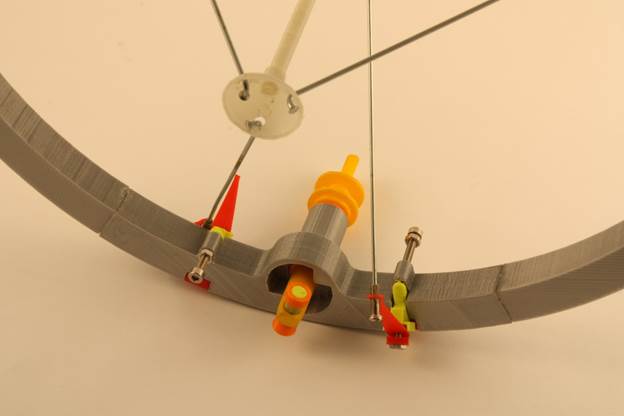 <![endif]><![if !vml]>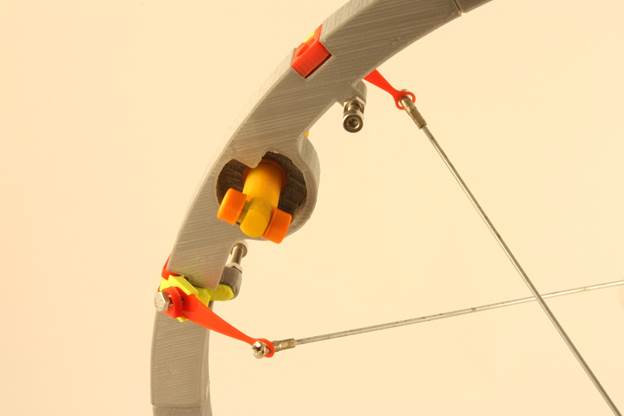 <![endif]>
Electrospinning Device
Electrospinning offers a promising method of producing exotic materials. One research project at Fermilab is investigating the use of electrospinning to make targets. A custom electrospinning device is needed to carry out this research, so one was designed and 3D printed using the Form 2 resin printer that Target Systems owns. Extremely detailed and with a novel recirculating reservoir in the base, this project is a perfect fit for 3D printing, as conventional fabrication methods would be cost prohibitive or impossible to use on a device like this.
<![if !vml]>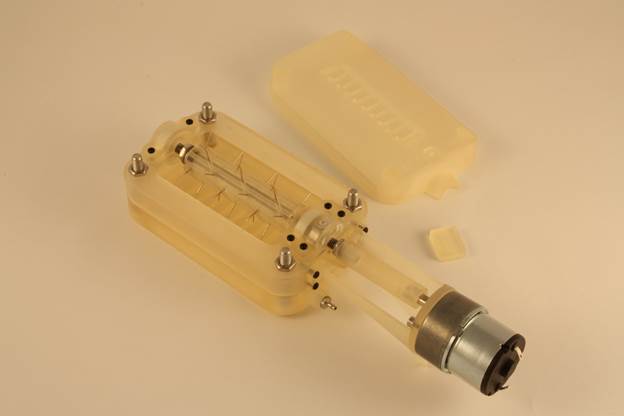 <![endif]><![if !vml]>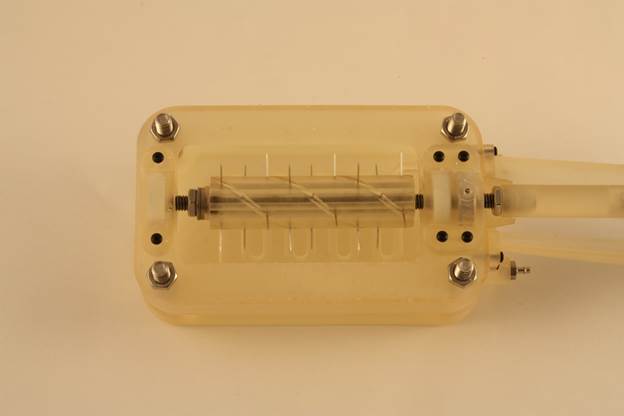 <![endif]><![if !vml]>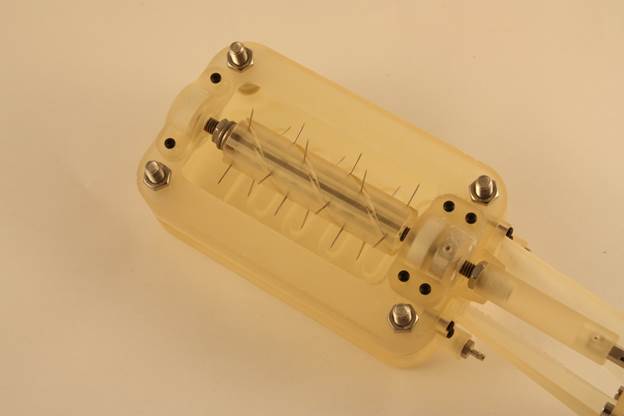 <![endif]>
Pelican Case Organizers
Organization and easy transport of parts is crucial to the efficiency of tunnel operations. Custom 3D printed case separators were designed to fit many vacuum parts into a Pelican case in an organized manner. This saves our technicians time and reduces errors in the tunnel.
<![if !vml]>
<![endif]><![if !vml]>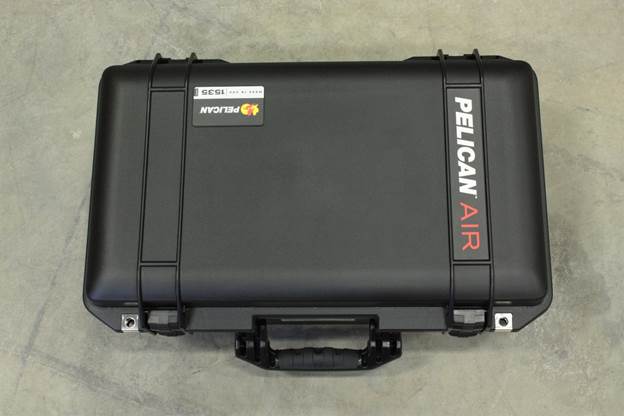 <![endif]><![if !vml]>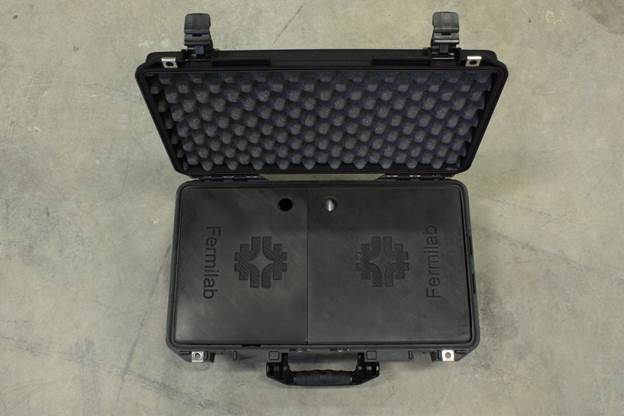 <![endif]><![if !vml]>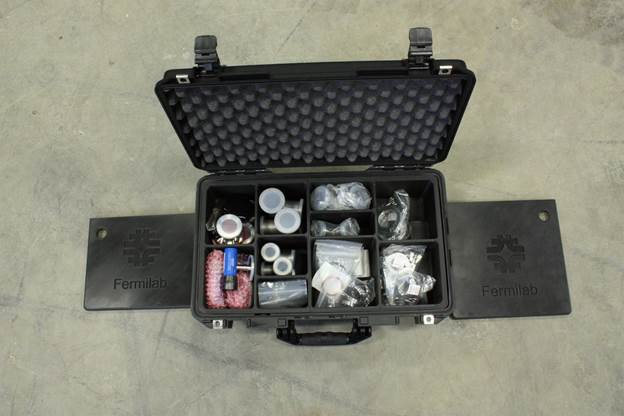 <![endif]><![if !vml]>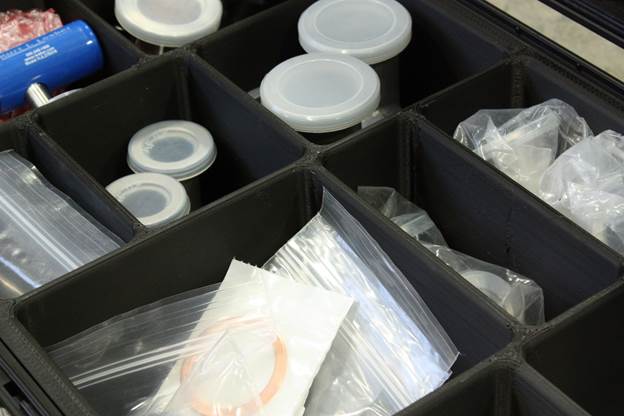 <![endif]><![if !vml]>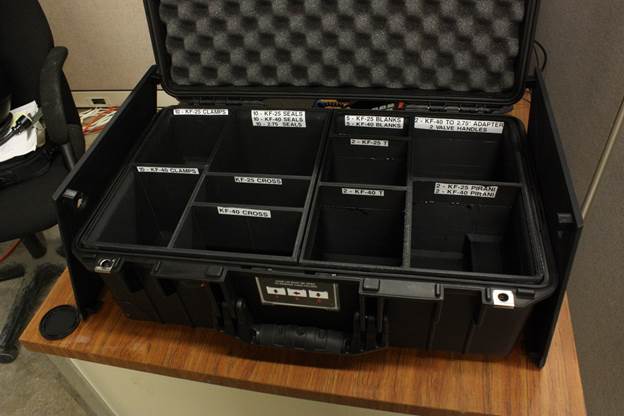 <![endif]>
3 Point Magnet Stand Model
Outreach and education are important missions of the lab. To this effect, a basic 3-point magnet stand model was designed and fabricated. It has been used in several outreach events both at the lab and with local cub scout organizations. In addition to this use, the magnet stand has been fiducialized and used to practice & train personnel in the methods of machine alignment.
<![if !vml]>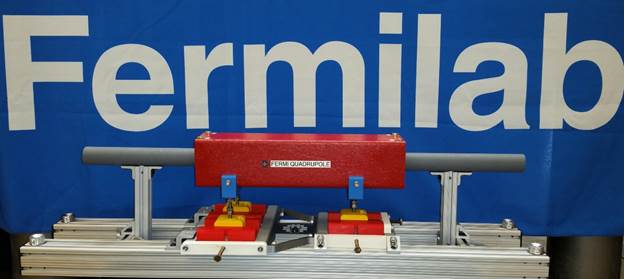 <![endif]><![if !vml]>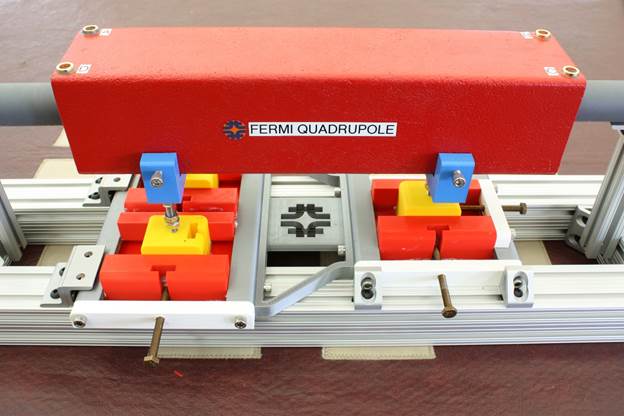 <![endif]><![if !vml]>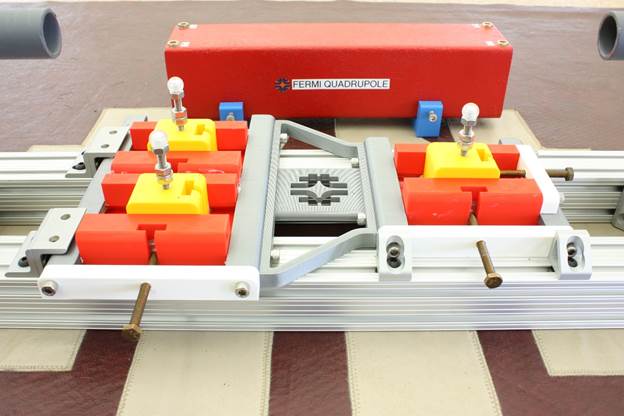 <![endif]><![if !vml]>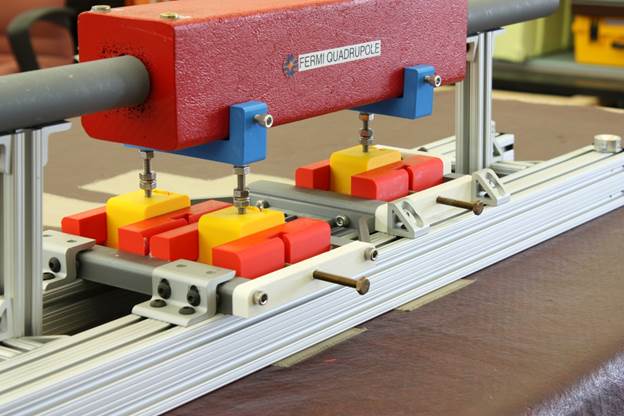 <![endif]><![if !vml]>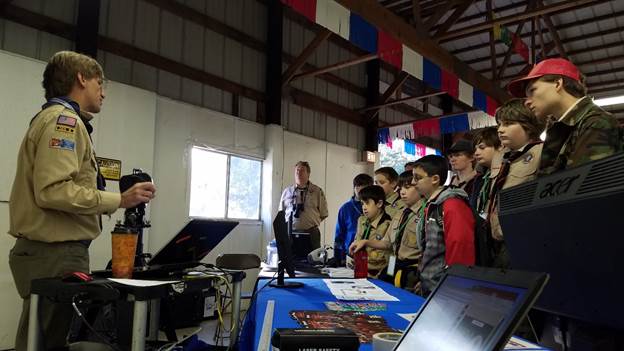 <![endif]><![if !vml]>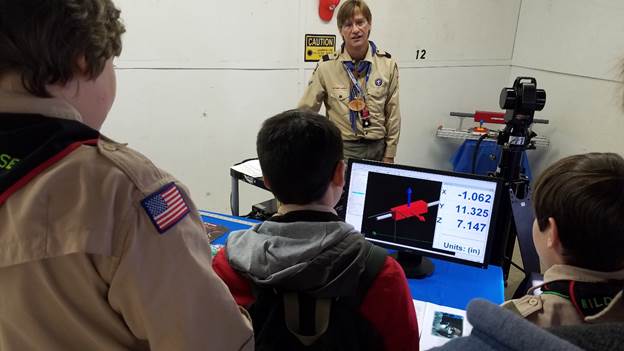 <![endif]><![if !vml]>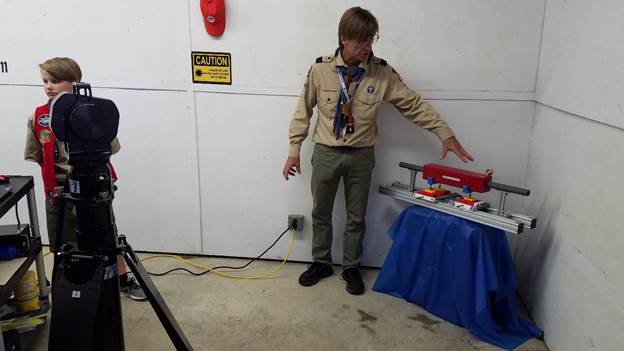 <![endif]>
Recycler Gradient Magnet Beam Tube Adjuster Assembly
The existing beam tube adjusters at the end of the Recycler gradient magnets aren't designed to impart large loads on the beam tube. In at least one location, a significant beam tube position adjustment was necessary. This was the prototype for that design. This item was printed and installed on a Recycler gradient during an access to ensure that the design fit the magnet, was easy to assemble and disassemble with the beam tube in place, cleared all obstructions, and allowed for adequate adjustment. Feedback from this plastic prototype informed a few minor design changes in the final product. This particular design was well received by the alignment crew, and so a modular and universal beam tube adjustment stand system has been designed around it. This system is now in use in the Main Injector, Recycler, and Muon Campus.
<![if !vml]>
<![endif]> <![if !vml]>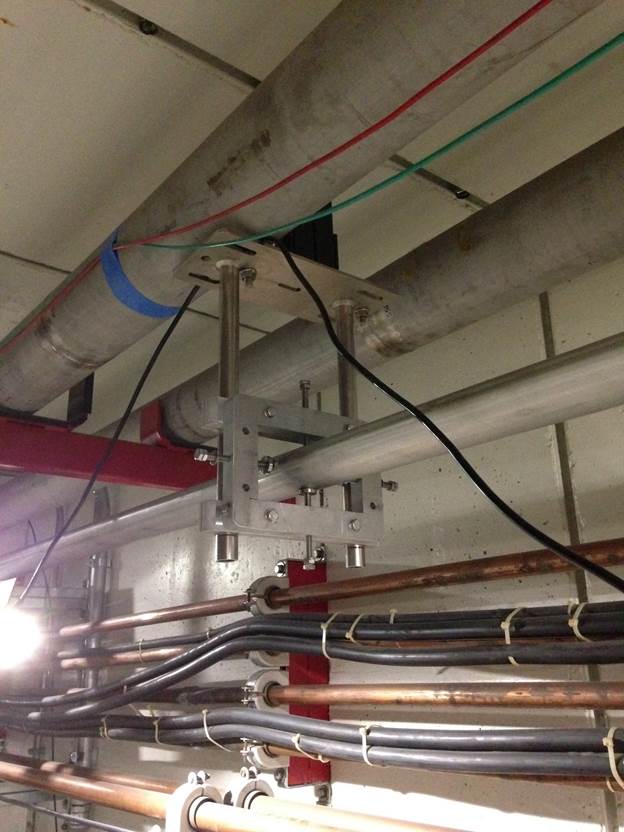 <![endif]>
Stackable Hardware & Tool Trays
When working in the tunnel, ready access to organized hardware and tools improves efficiency and reduces worker fatigue. These prototype tray designs can be customized to fit a variety of hardware or tools and are stackable to permit easy transport.
<![if !vml]>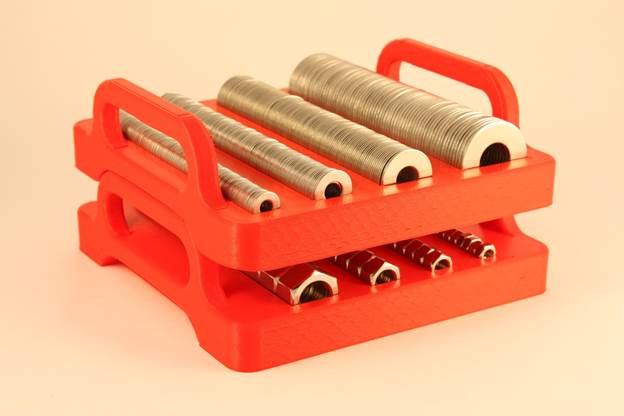 <![endif]><![if !vml]>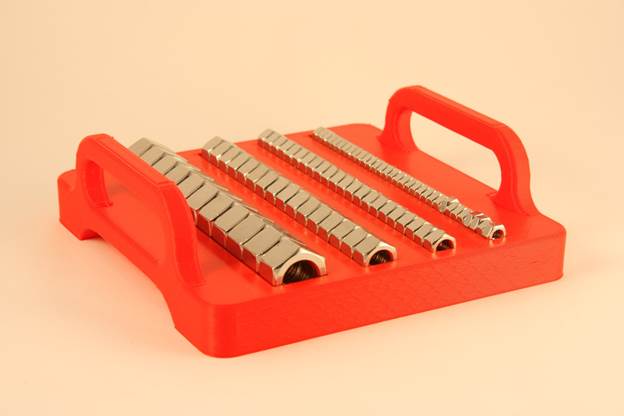 <![endif]>
Injection and Extraction C-Magnet Vacuum Link Brackets
During construction of the Muon Campus, a large potential vacuum thrust load was identified on two magnets. To handle this load, an adjustable linkage was designed that would tie the magnet to the ground. The linkage had to attach at two brackets, one on the magnet and one near the ground. The engineering drawings of the existing magnet and stand didn't include every obstruction present in the real-life installation. To ensure that the brackets were designed in a way that would clear all obstructions, prototypes were printed and installed. Once the final design was achieved, it was fabricated in steel.
<![if !vml]>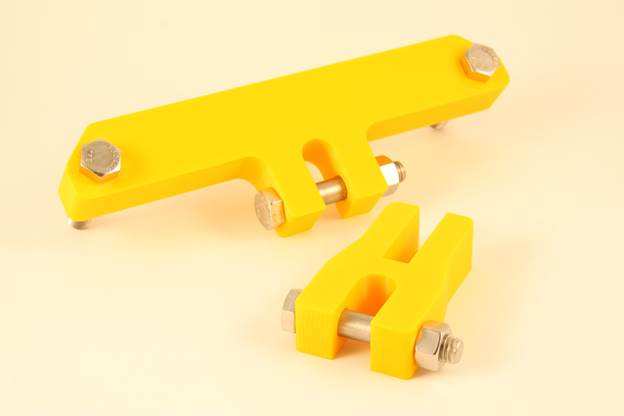 <![endif]> <![if !vml]>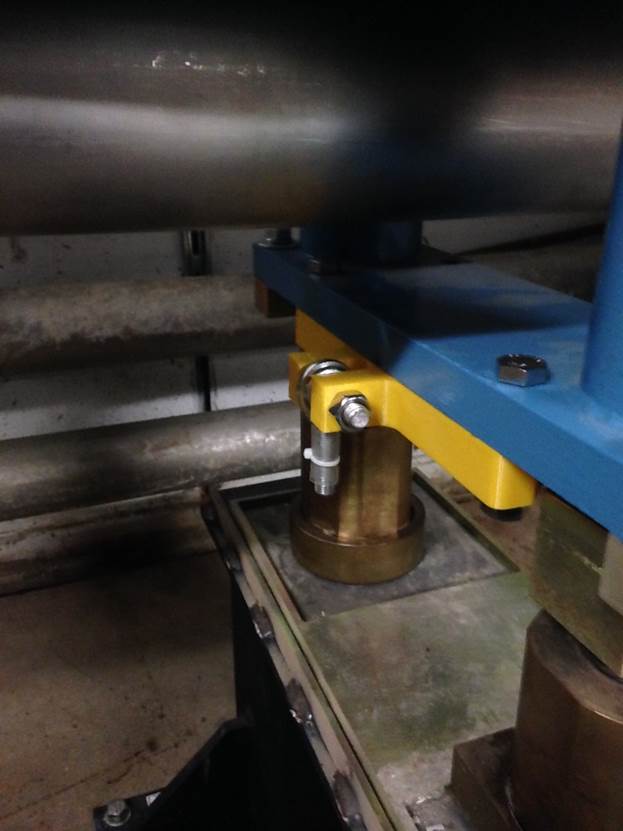 <![endif]> <![if !vml]>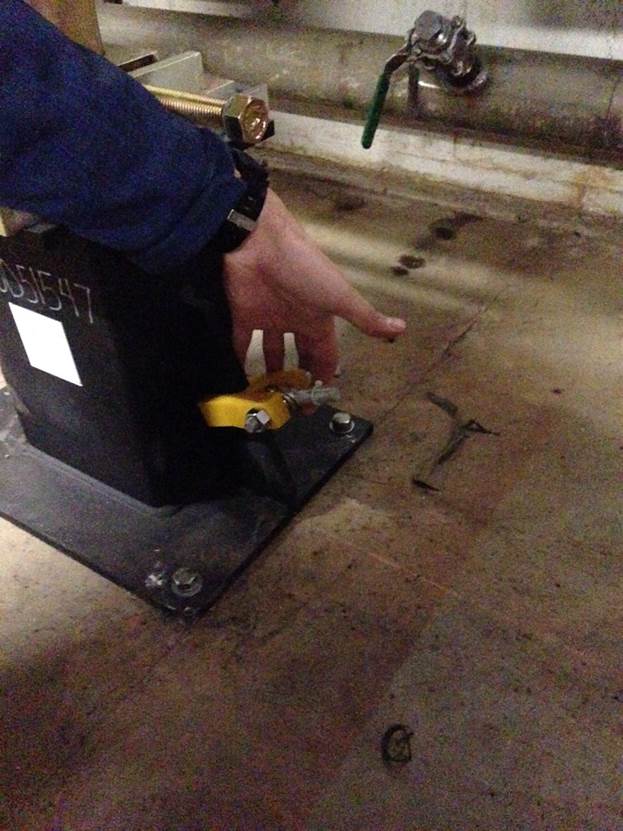 <![endif]>
Sextuple Stand Installation Fitment Gauge
During the 2017 summer shutdown, 19 sextuple magnet stands were replaced with stands of a new design. The existing wall mounted stand supports were reused. Unfortunately, it was noted during an access day during spring that the wall mount stands were not exactly built to print, calling into question the fitment of the new sextuple stands. To ensure no clearance issues, a go/no-go gauge was 3D printed and tested on all 19 wall stands before attempting the new installation. Luckily, the gauge showed at least a very small clearance in every case, assuaging fears that there would be problems when installation occurred.
<![if !vml]>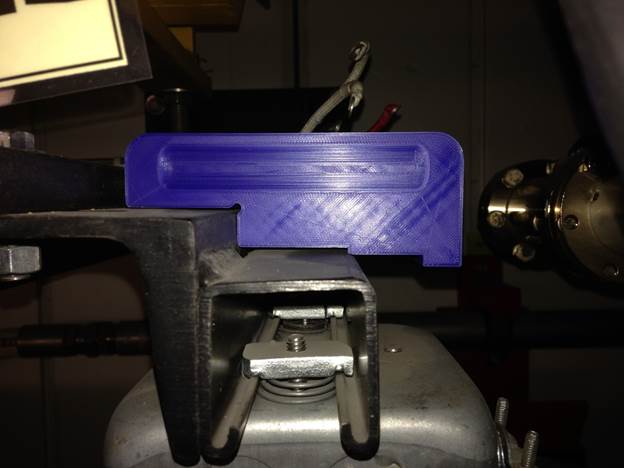 <![endif]><![if !vml]>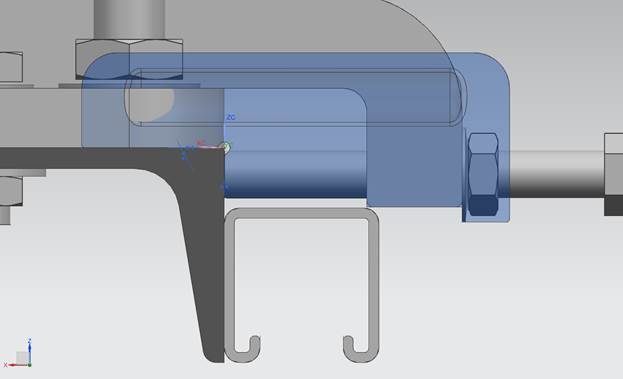 <![endif]>
O2 Air Monitor Test Cap
The interlocks group requested a custom adapter for testing oxygen filters. They attach this 3D printed cap to the air monitors and plug a hose into the other side of the cap. Different grades of oxygen are then flowed into the cap to test if the monitor trips or not. This print was made with a flexible filament called nGen because it makes the cap easier to install and remove with a consistent leakproof seal.
<![if !vml]>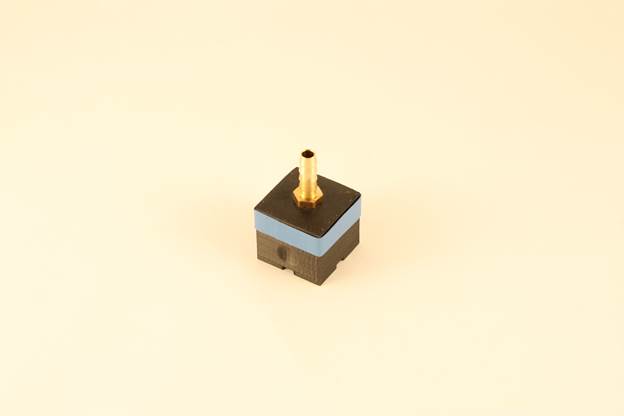 <![endif]><![if !vml]>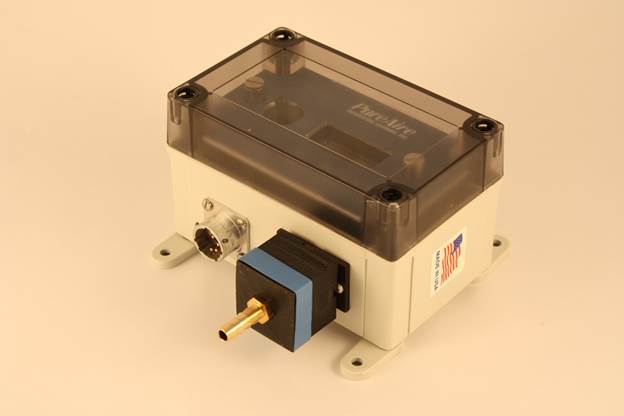 <![endif]><![if !vml]>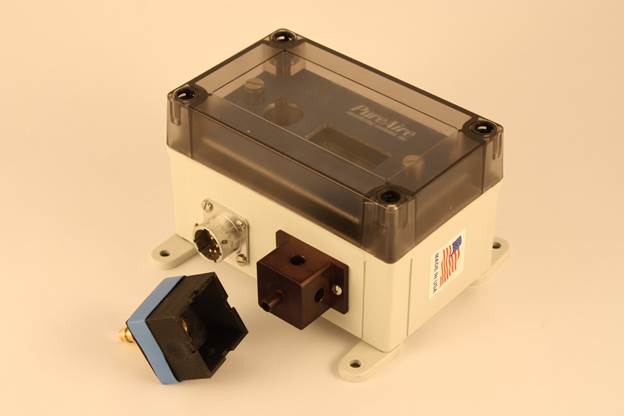 <![endif]>
D3Q3 Pipe Welding Plugs
Because of the extremely strange shape of the D3Q3 vacuum pipe in the Muon campus, it had to be fabricated out of cut strips of CNC-bent stainless steel. Jigging these strips so that they would line up perfectly during welding was crucial, and no conventional welding jigs or tools would give a satisfactory alignment. Instead, custom 3D printed plugs were made, around which the sheetmetal was c-clamped. This solution turned a difficult welding job into a simple and quick one.
<![if !vml]>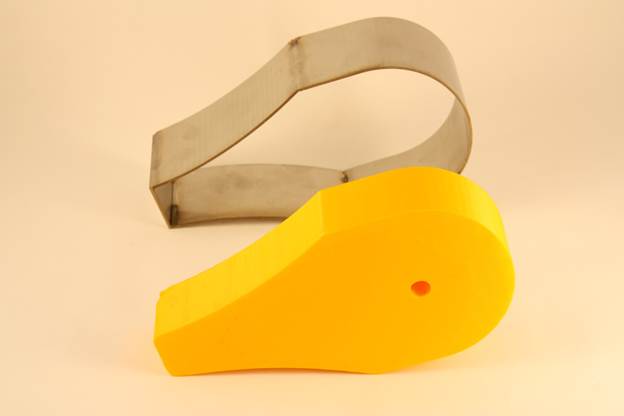 <![endif]><![if !vml]>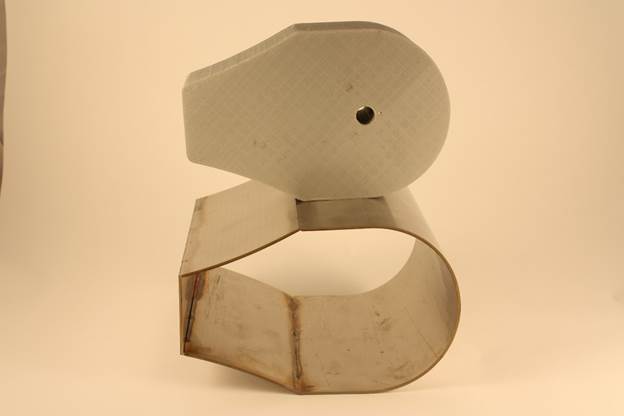 <![endif]> <![if !vml]>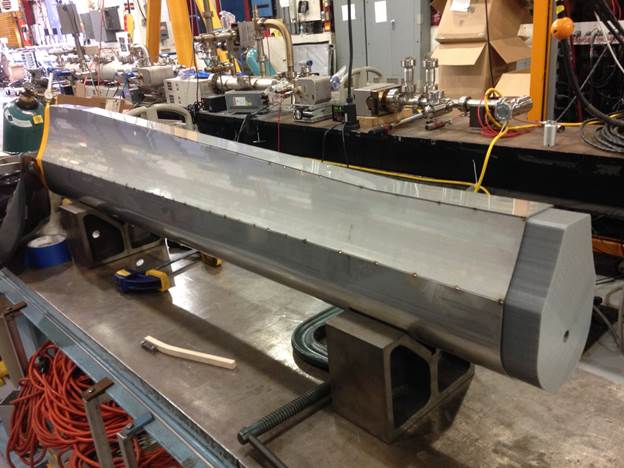 <![endif]> <![if !vml]>
<![endif]>
CRT Wall Prototype
An early proposal for the SBN Near Detector CRT wall was a simple mechanically-locking frame structure that could be pre-jigged without any tools before welding. This design makes fabrication very simple, but explaining how it goes together is difficult without any visual aids. This prototype allowed the project leaders to examine the design and try it out for themselves, and was also used to get feedback from welders and machinists involved with the project.
<![if !vml]>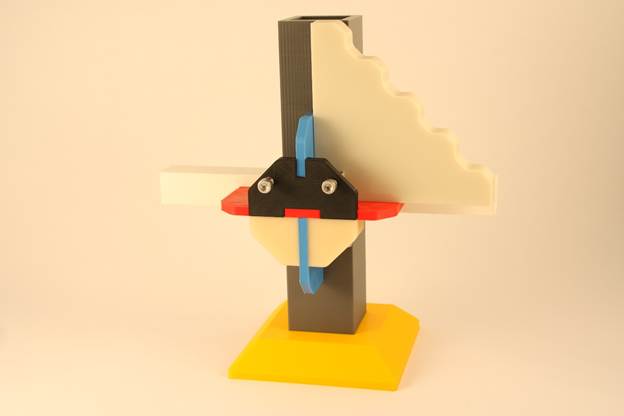 <![endif]><![if !vml]>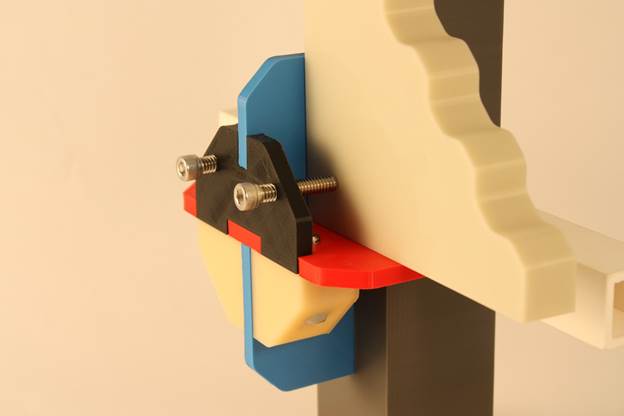 <![endif]>
Borated Polyethylene Shield Wall Prototype Model
To protect the cable trays from damaging radiation, the Main Injector Department requested that a removable shield wall be made around the collimators in the Main Injector. One proposal for this design was 3D printed so that the installation and removal procedures could be demonstrated at meetings and logistics challenges could be solved visually.
<![if !vml]>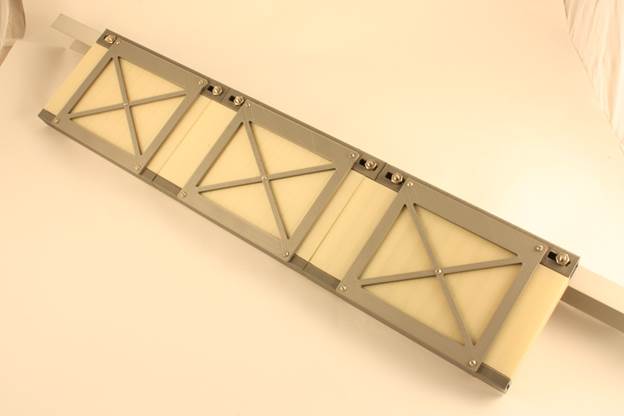 <![endif]>
80/20 Micro Switch Mounts
Two different laser labs at Fermilab use micro limit switches in their experiments. Aluminum 80/20 extrusion allows for easy design and setup of experimental hardware, but no commercial solutions exist to mount the micro limit switches to 80/20. Custom 3D printed mounts were designed and used to solve this problem. These mounts are now in use at the MC1 and MP8 laser labs. The printed black piece on the back allows remote adjustments to be made without disturbing the experiment, saving time and making the experiment safer for the operators.
<![if !vml]>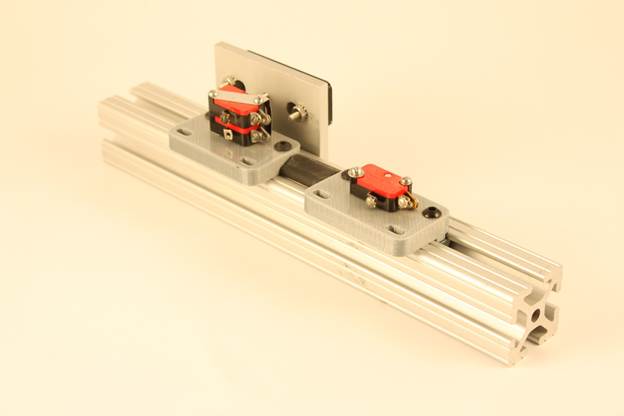 <![endif]><![if !vml]>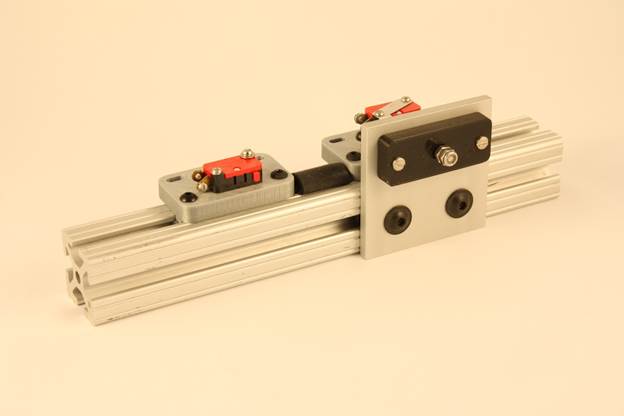 <![endif]><![if !vml]>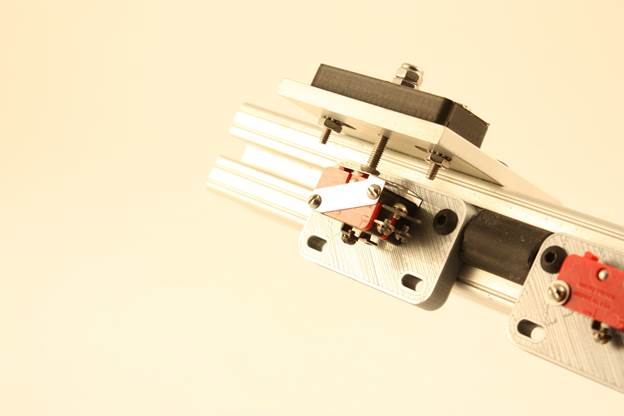 <![endif]>
Magnetometer Testing Shelf
A custom shelf was needed for holding a power supply and magnetometer that would be lowered into the MINOS pit while taking measurements. 3D printing was a perfect fit for this project.
<![if !vml]>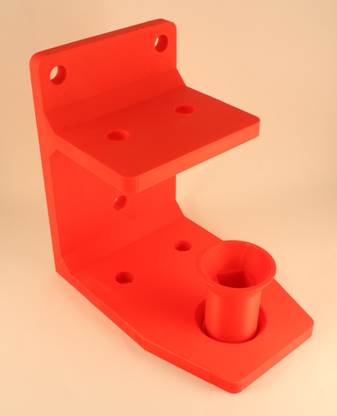 <![endif]>
SHV Connector Cover
The interlocks group is responsible for building and maintaining many electronics enclosures at Fermilab, including the TLM (Total Loss Monitor) chassis. One of the connectors inside of this chassis needed a custom plastic cover, and 3D printing was a great fit. Several iterations of the design were tested until the perfect fit was found. Roughly 30 of these covers are currently in service.
<![if !vml]>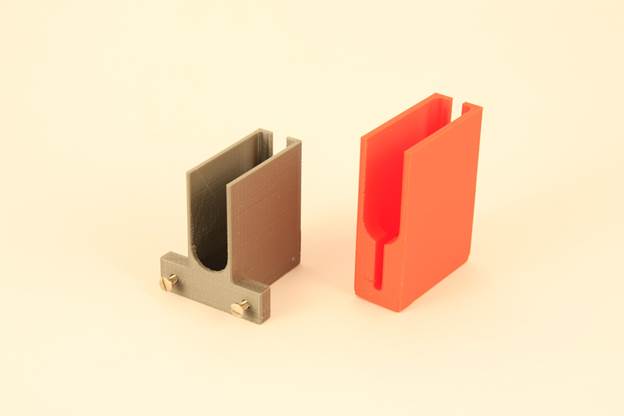 <![endif]><![if !vml]>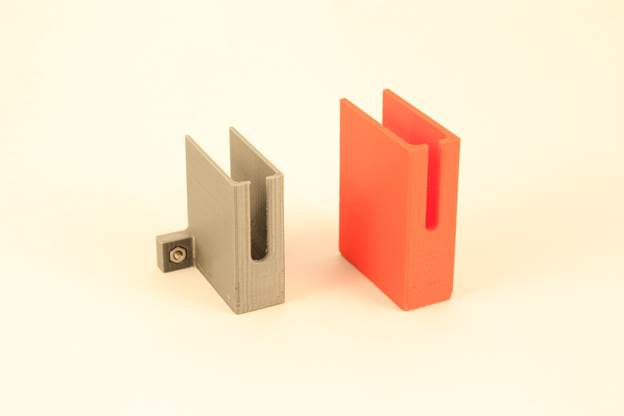 <![endif]>
Air Velocity Sensor Mount
The interlocks group needed to mount a proprietary air velocity sensor on the periphery of a 24" metal pipe at HAB. This sensor used a very specific, nonstandard thread pitch in its design, and taps or mounts for this particular thread were not available. Instead, a custom mount was designed in NX, including the custom thread, and the entire thing was 3D printed. The printed thread fit the sensor excellently without cleanup required.
<![if !vml]>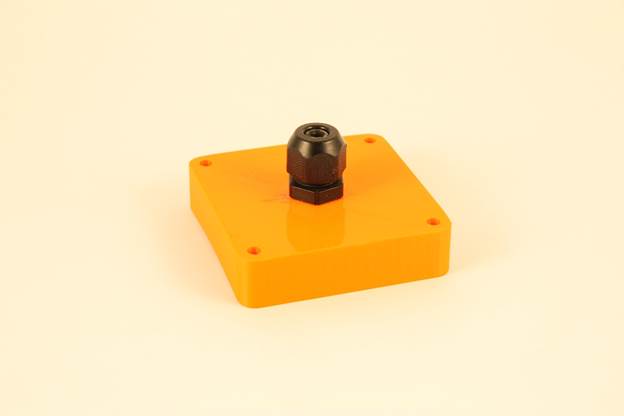 <![endif]><![if !vml]>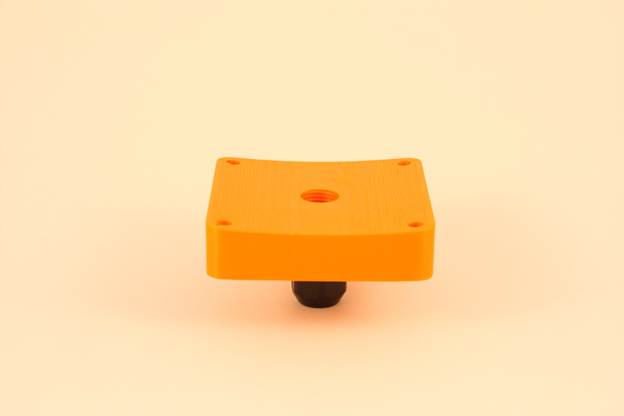 <![endif]><![if !vml]>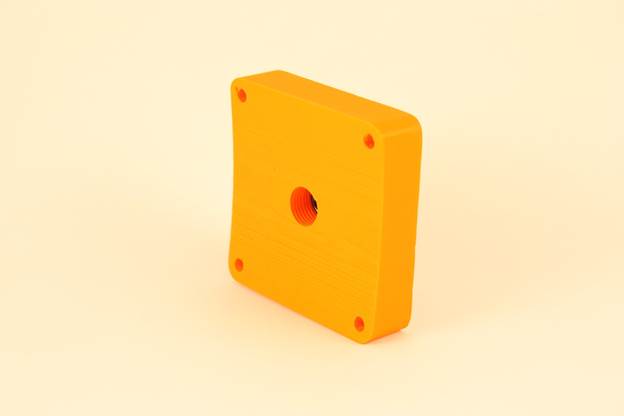 <![endif]>
Turbo Pump Balancing Adapter
Because turbo pumps have extremely high RPM components inside them, they must be in nearly perfect balance to operate. At Fermilab, we can balance several turbo pump styles, but the smaller Varian turbo pumps do not fit on our balancing rig. This 3D printed adapter assembly allows us to use the existing balancing machine with the small Varian turbo pumps.
<![if !vml]>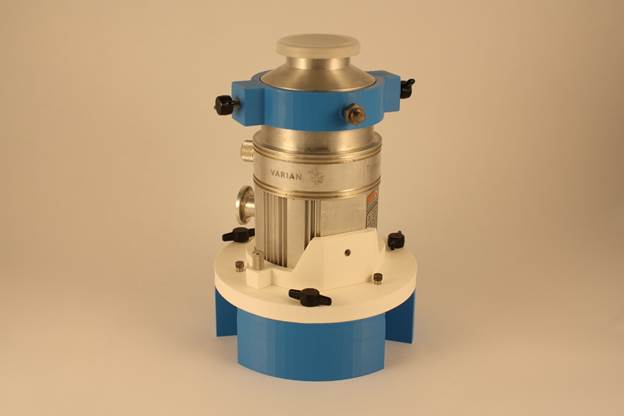 <![endif]><![if !vml]>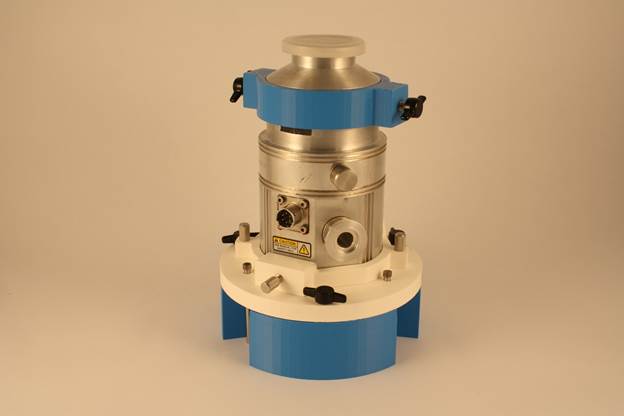 <![endif]><![if !vml]>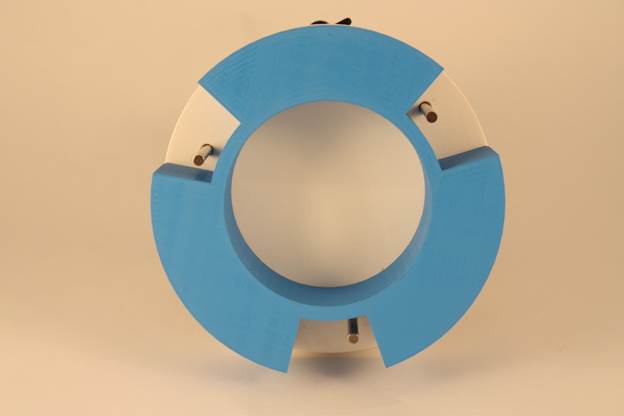 <![endif]>
Vacuum Cart Bellows Protector
One vulnerability of the vacuum carts at MI-60 is the connector bellows. If the vacuum cart is not stored under vacuum when disconnected from the system, these bellows hang off the end of the cart and sag. To prevent this scenario, a custom bellows protector/slider was designed and 3D printed as a co-op project.
<![if !vml]>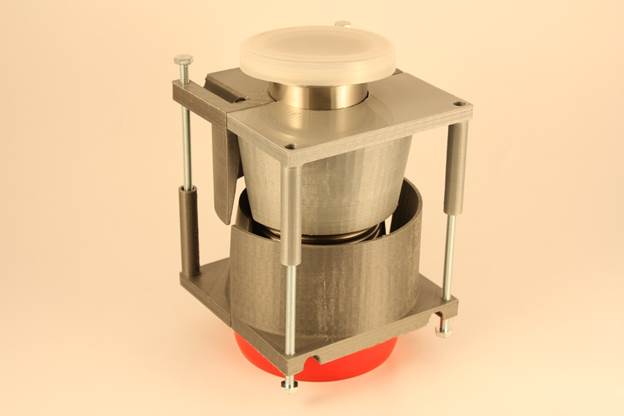 <![endif]>
Platform Jack
https://www.thingiverse.com/thing:925556
This is a great example of leveraging open source designs. The design was made and published by a Thingiverse user named Intentional3D. The jack assembly prints in a single piece, meaning no assembly work is necessary. We only have so many metal platform jacks on hand, and they are helpful for all kinds of work here at Fermilab. This design could easily be modified to have custom contours at the top platform, such as a v-groove.
<![if !vml]>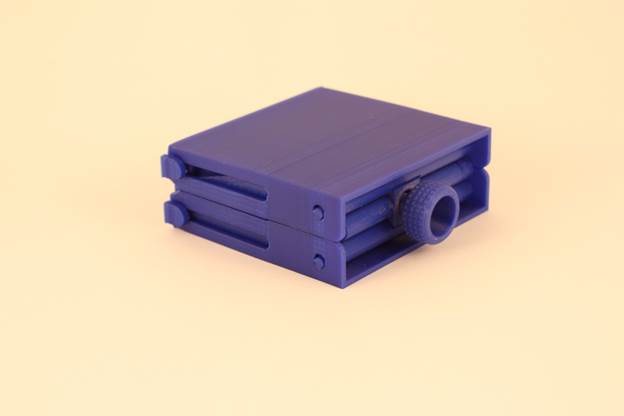 <![endif]><![if !vml]>
<![endif]>
Fermilab Keychain
Originally designed as a free 3D printed giveaway for DASTOW 2017, this keychain was a popular choice among the attendees. Since then, we have printed several more and used them on lab keychains.
<![if !vml]>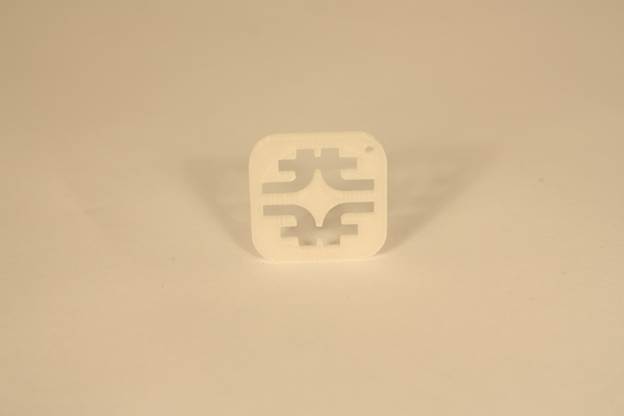 <![endif]>
Solenoid Shield
The MI-60 vacuum carts all have a vulnerable solenoid mounted at an exposed corner of the cart. This shield protects that solenoid. It is used on all 4 carts in service and has performed its intended insurance function at least once, preventing a solenoid from being damaged.
<![if !vml]>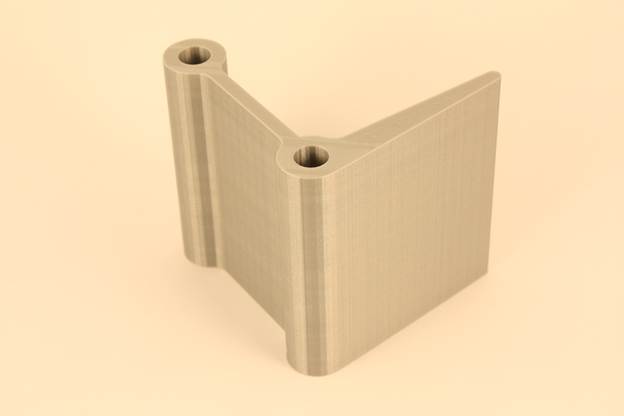 <![endif]><![if !vml]>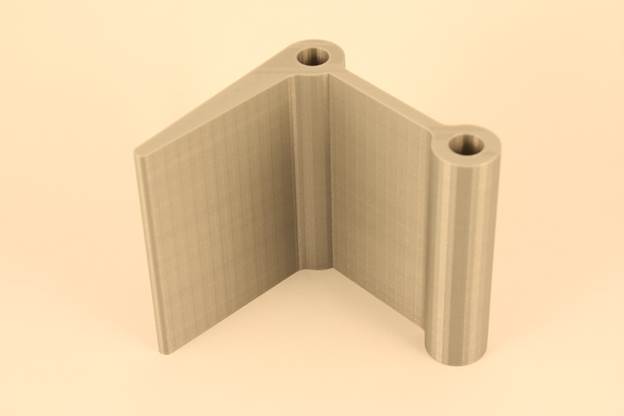 <![endif]>
Nylon Test Samples
Nylon is a high-performance thermoplastic that can be 3D printed. These parts are test pieces showcasing the capability of Taulman 3D's new Alloy 910 3D printing Nylon filament. With a tensile strength of 8100 PSI and an elongation of 31% at tensile failure, this material offers exceptional strength and toughness for functional objects such as tooling, alignment jigs, and prototypes, as well as end use items.
<![if !vml]>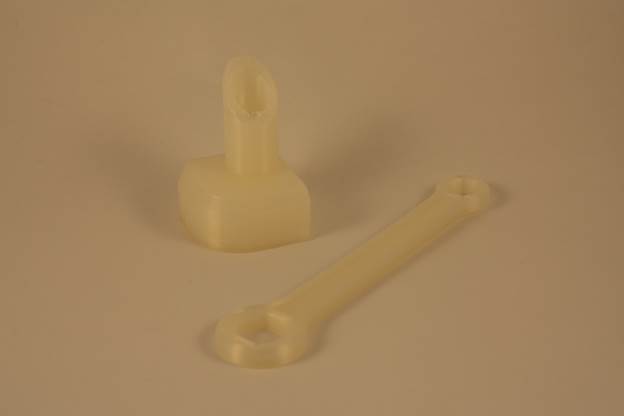 <![endif]>
Ultimaker Calibration Parts
These are the calibration prints used to set up Ultimaker printers. These parts are roughly the size of a nickel. They showcase the detail capability of our Ultimaker 2+ Extended 3D Printer.
<![if !vml]>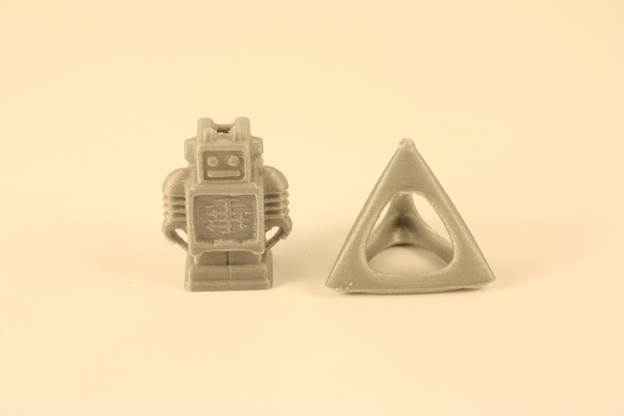 <![endif]>
D3Q3 Beam Pipe Spacer
The D3Q3 magnet in the Muon Campus needed a very complex-shaped beam tube to go through it. A custom spacer was required to locate the tube the correct distance off the bottom pole tips of the magnet. To help design this spacer for a perfect fit, several plastic 3D printed prototypes were made and tested in a span of only a few days. The final iteration produced a perfect fit, and that design was sent to the machine shop to make out of G10 plastic.
<![if !vml]>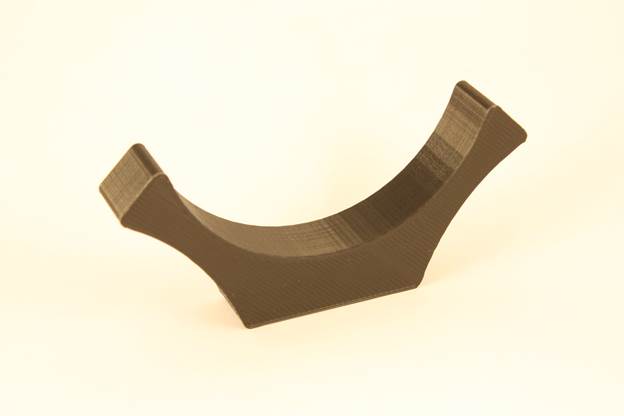 <![endif]> <![if !vml]>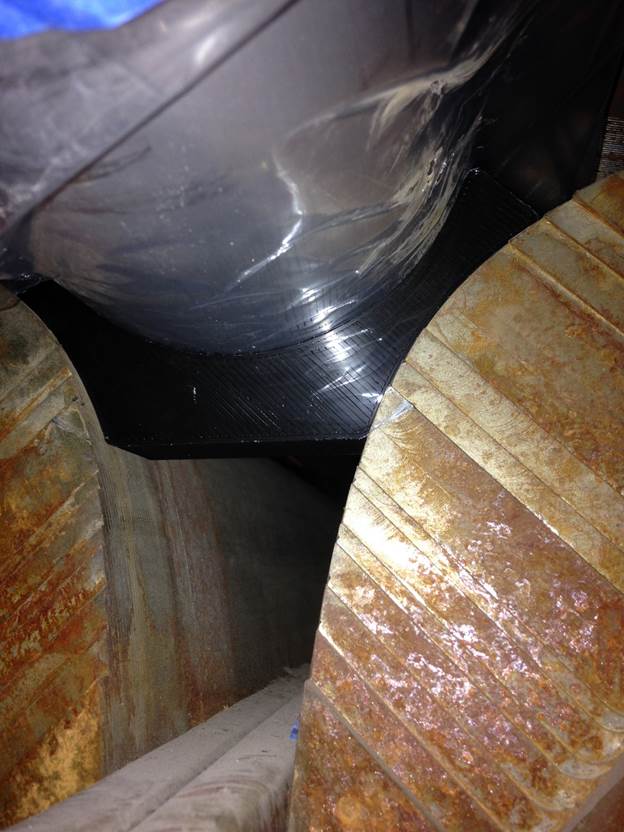 <![endif]>
Expanding Pipe Plug
Swabbing out long beam tubes requires some sort of an expanding plug with an AlphaSorb wipe attached to the surface. This pipe plug expands in diameter when a nut is tightened, allowing for an adjustable fit. It also accommodates mechanical retention of an AlphaSorb wipe.
<![if !vml]>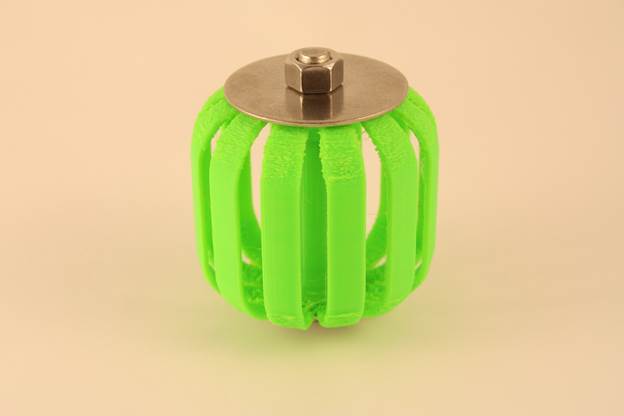 <![endif]><![if !vml]>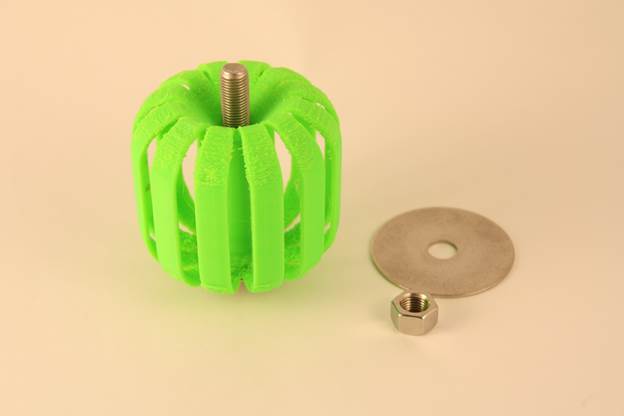 <![endif]>
Bellows Retention Bracket
In addition to having a vulnerable solenoid, the vacuum carts at MI60 also have a joint that needs support against vacuum loads to prevent a bellows from contracting. To design this bracket, a piece of card stock was traced over the existing holes on the chassis. This trace was used to design a few iterations of brackets, which were then 3D printed in plastic. During this process, a fitment flaw was discovered that changed the design. The final version was sent to the machine shop to be made in aluminum.
<![if !vml]>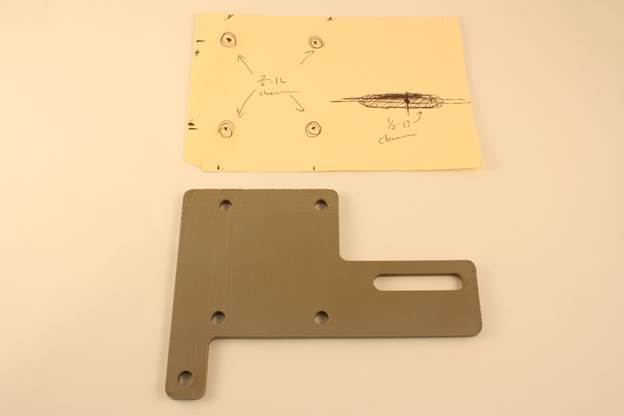 <![endif]>
D3Q3 Beam Pipe Vacuum Load Retainer
Due to having different size flanges on each end, the D3Q3 beam pipe is subject to a significant vacuum thrust load. A 2-piece collar had to be made to secure the beam pipe. A few 3D printed prototypes were made and tested to ensure a perfect fit. It took a few iterations to clear every obstruction, but the final design met all the requirements and was sent to the machine shop to be made in aluminum.
<![if !vml]>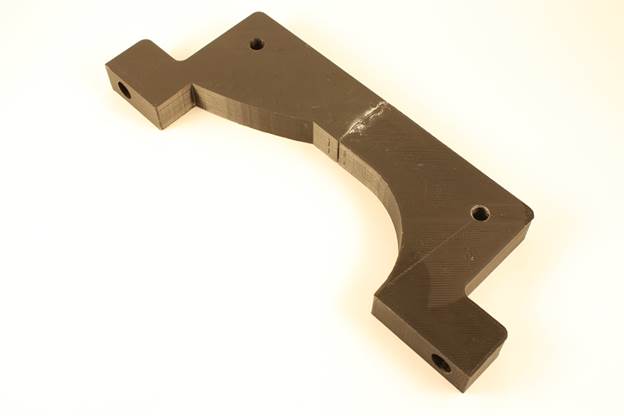 <![endif]> <![if !vml]>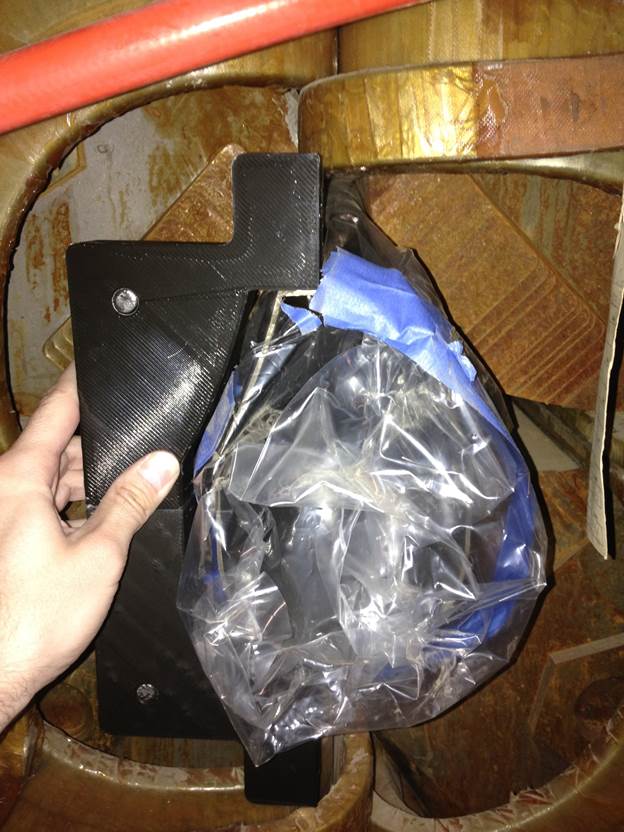 <![endif]>
Main Injector Dipole Model
A great use of 3D printing is to make models for use in logistics planning. This Main Injector Dipole can be used with a scale tunnel model to help plan out magnet installation & removal.
<![if !vml]>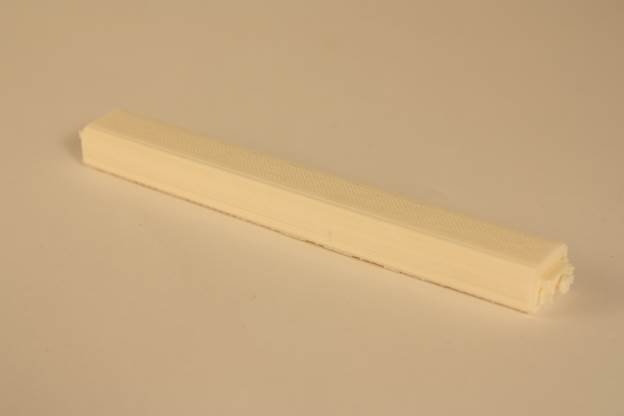 <![endif]>
Main Injector 232 Cross Section
In the future there may be a few new girders installed in the Main Injector 232 area. This section of the tunnel has a non-standard cable tray, and so removal and installation of components is slightly more difficult. To understand the challenges, in-tunnel measurements were made and a cross section of the tunnel was 3D printed, along with a gradient magnet cross section. This model can be used to intuitively understand which motions are needed to remove and install future magnets in this area.
<![if !vml]>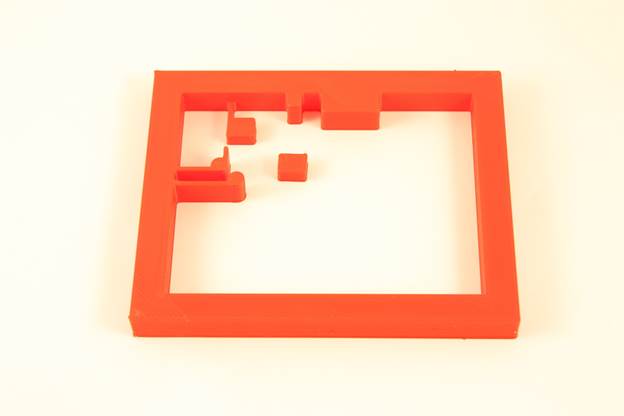 <![endif]>
Iro3D Test Print
Metal 3D printing equipment has conventionally been very expensive. A small startup company in Washington, iro3d, aims to change that. They have introduced a metal 3D printer that only costs $5000. I was offered the chance to make a test part on one of their machines, so I designed a multi-functional torture test part. Included on this test part are material test samples which can be sawed off and then tensile tested.
<![if !vml]>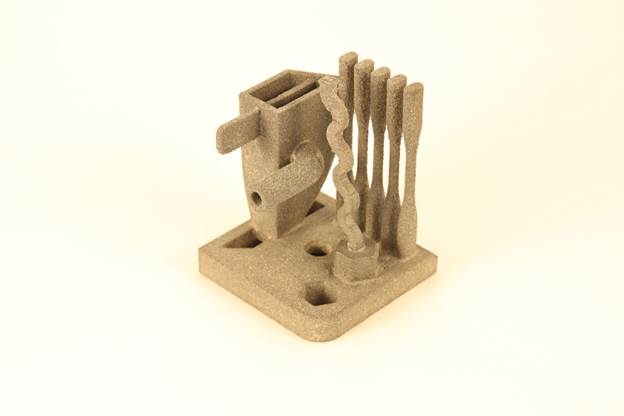 <![endif]><![if !vml]>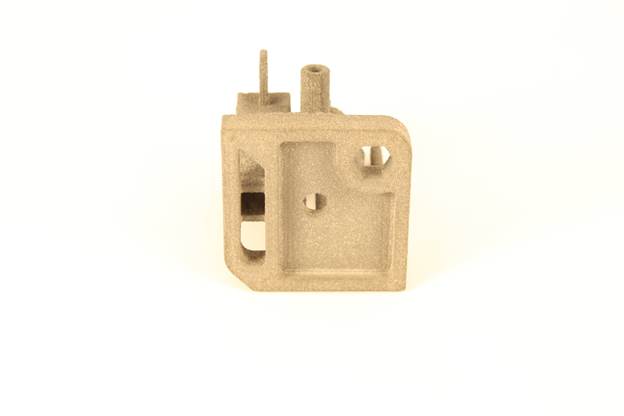 <![endif]>
Lattice Generation Sample Parts
SLA printing allows for extremely complex geometries to be printed, but there are a few process limitations. Parts with large cross-sectional areas are difficult to print. Designing a lattice structure into a part reduces the cross-sectional area, increasing printability, while also generally retaining a great deal of strength. Lightweight, strong parts can be printed using lattice structures. These test parts demonstrate this capability and are the culmination of developing new modeling processes here at Fermilab.
<![if !vml]>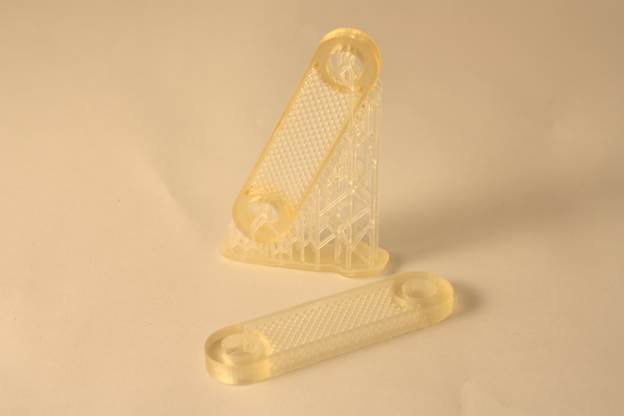 <![endif]>
Fine Detail Sample Part
SLA printers are capable of extremely fine detail resolution. This open source model of the Eiffel Tower is an excellent showcase of that capability. Printed at only a 25-micron layer height, every fine detail is present and sharp.
<![if !vml]>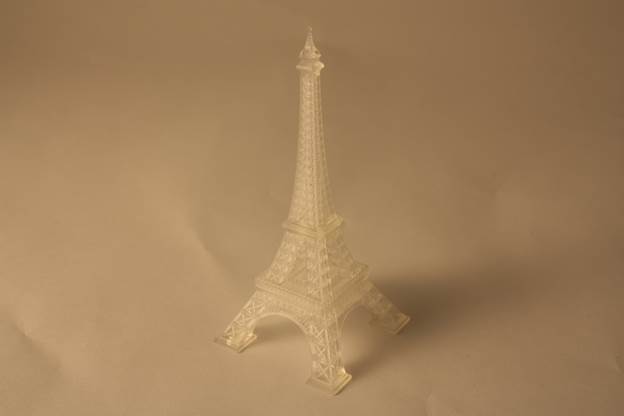 <![endif]>
Prototype Quick Seal
The current quick seal design is very sensitive to assembly practices and flange tolerances. A new design incorporating several improvements was made and prototyped in plastic. The prototype helped confirm that the new folding tab feature would not interfere with the Marman clamps used to secure the seal.
<![if !vml]>
<![endif]>
Tensile Test Samples
One of the challenges of using 3D printed parts is the fact that the material properties can vary greatly based on process parameters, part geometry, and print orientation. Almost all 3D printed parts display non-isotropic materials properties, and it is important to characterize this non-isotropy so that parts will perform as intended. To aid in this testing, many ASTM D638 "Dogbone" samples have been printed with a variety of process parameters and print orientations, and some of them will also be irradiated. Thorough testing and analysis of these parts should give us the knowledge we need to confidently produce more end-use printed parts in the future.
<![if !vml]>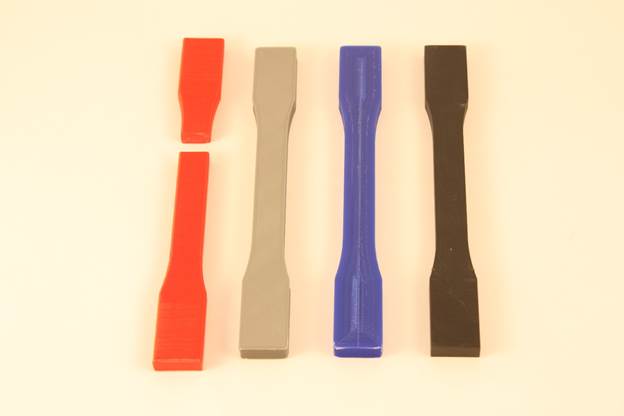 <![endif]>
Fast Printing Sample
Our Fusion F400-HFR printer is one of the fastest printers on the market, allowing large models to be fabricated rapidly. One of the calibration prints for the printer is a bottle with a screw on cap. This model can be printed in under 30 minutes.
<![if !vml]>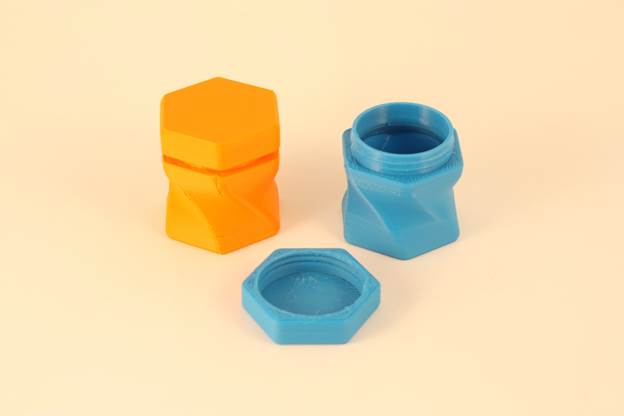 <![endif]>
USPAS Lab Magnet Screws
The USPAS lab program uses unique equipment to teach students about various accelerator topics. Some of the equipment is old and failing. 3D printing offers an excellent method of maintaining this equipment going forward. These small screws were 3D printed to replace failing plastic screws in the dipole magnets used for one of the lab sessions.
<![if !vml]>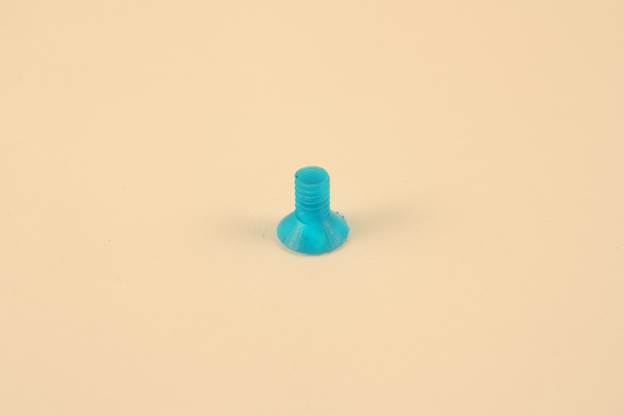 <![endif]><![if !vml]>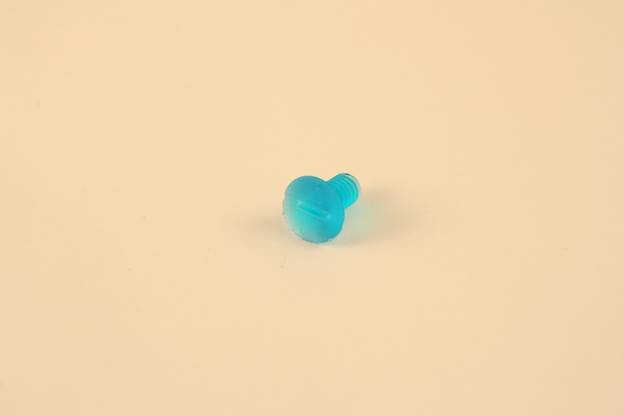 <![endif]>
DUNE/LBNF Photo Detector Prototype Molds
The design of the DUNE/LBNF photodetectors is going to be iterative. One promising material to make the lenses out of is cyclic olefin copolymer. This material is readily available as beads, which can then be melted into a mold. Target Systems' Formlabs Form 2 printer offers a special high temperature resin material for printing that can withstand temperatures over 290° C. This makes it ideal for producing custom molds. This particular mold has not been used to melt plastic yet, but has been baked for 4 hours at 250° C to demonstrate its heat resistance.
<![if !vml]>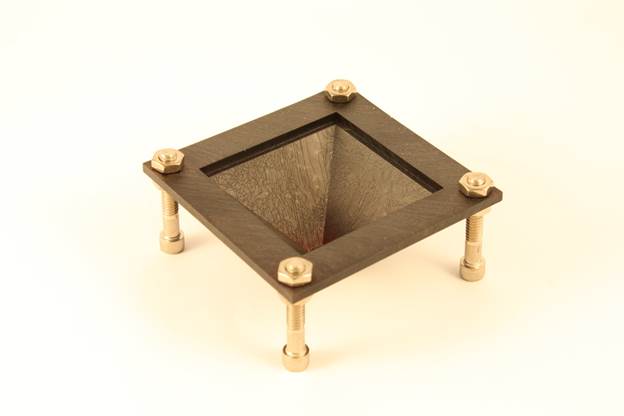 <![endif]><![if !vml]>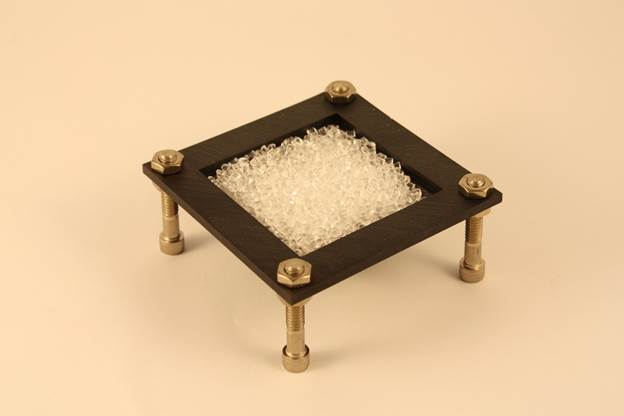 <![endif]>
Turbo Pump Model
A technician group at the lab needed a custom contoured case to hold an expensive turbo pump for transport. The company that builds the cases wanted to borrow a turbo pump for a few months to make the case, which is not feasible as all the pumps are needed here at the lab. To circumvent this problem, the pump company was contacted and provided us with a CAD model of the pump. This model was 3D printed in plastic for use in producing the custom case.
<![if !vml]>
<![endif]>
Modified SEY Station Samples
The current SEY Station samples need to be modified for future experimentation. Very fine welding, either TIG or laser, will need to be employed to attach the new samples to the modified original sample holders. To understand the fit and logistics involved in making this weld, a detailed plastic version was made on the Form 2 resin printer.
<![if !vml]>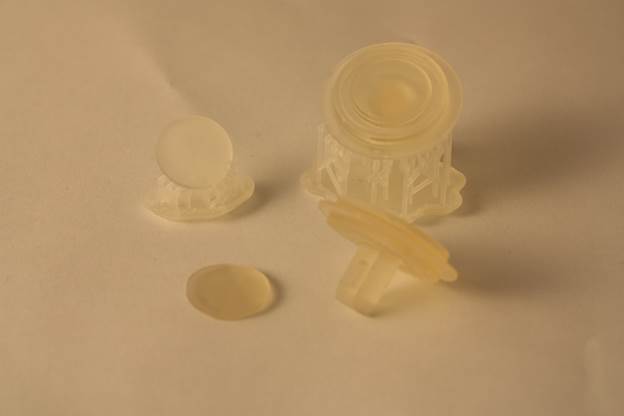 <![endif]>
Q106 Magnet Moving Vehicle Horn
During the 2016 shutdown a new rolling stand was designed for the Q106 magnet. To move this rolling stand into and out of installed position, an aircraft tugger was modified with a custom "rhino horn" attachment. To get the attachment dimensions exactly right, several plastic versions were 3D printed and trial fit until the exact right geometry was achieved.
<![if !vml]>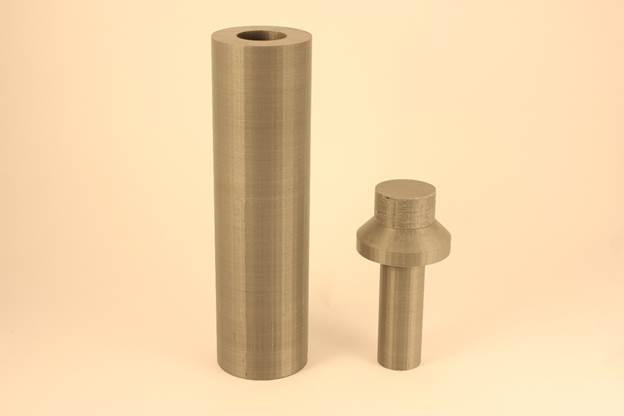 <![endif]><![if !vml]>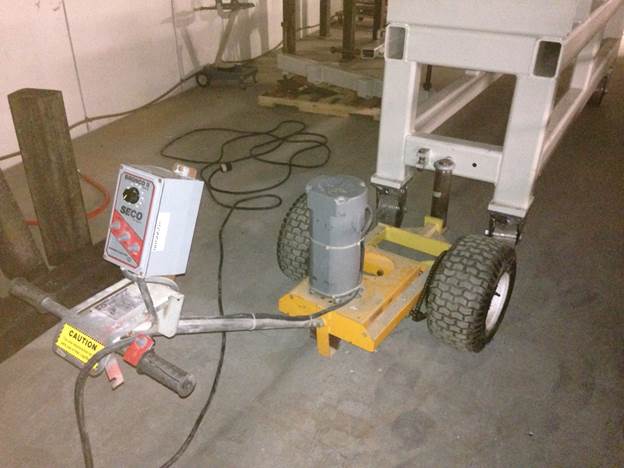 <![endif]><![if !vml]>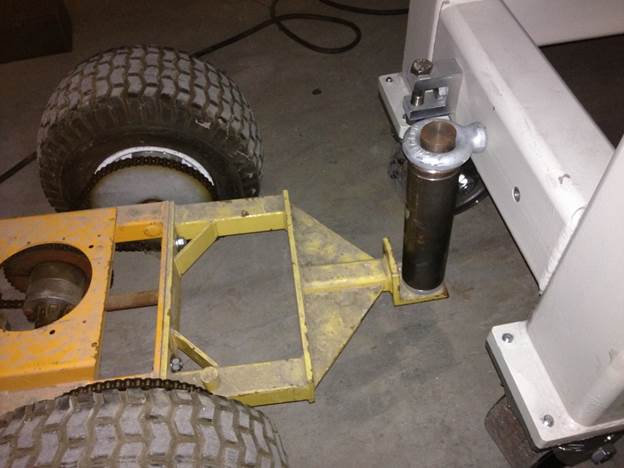 <![endif]>
Linac Cavity Displays
We were approached by the directorate office to design three custom displays for various Linac cavities. These are currently on display in the Linac for public tours to enjoy. Each display is of a different design to accommodate the different features of each cavity.
<![if !vml]>
<![endif]><![if !vml]>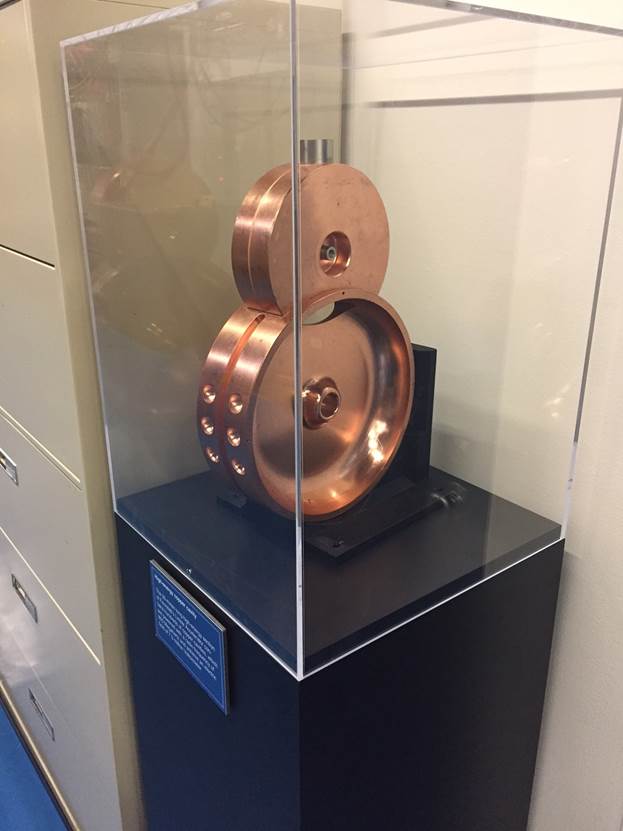 <![endif]><![if !vml]>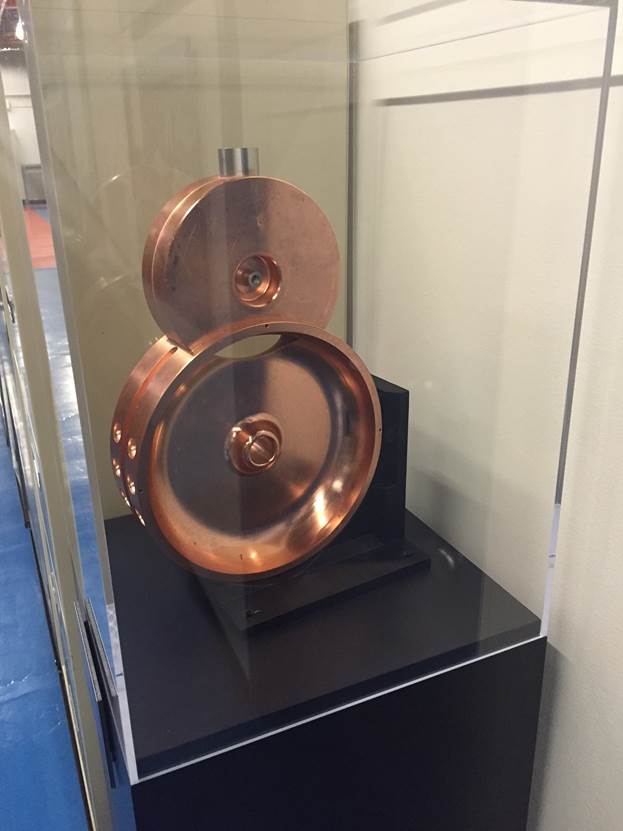 <![endif]><![if !vml]>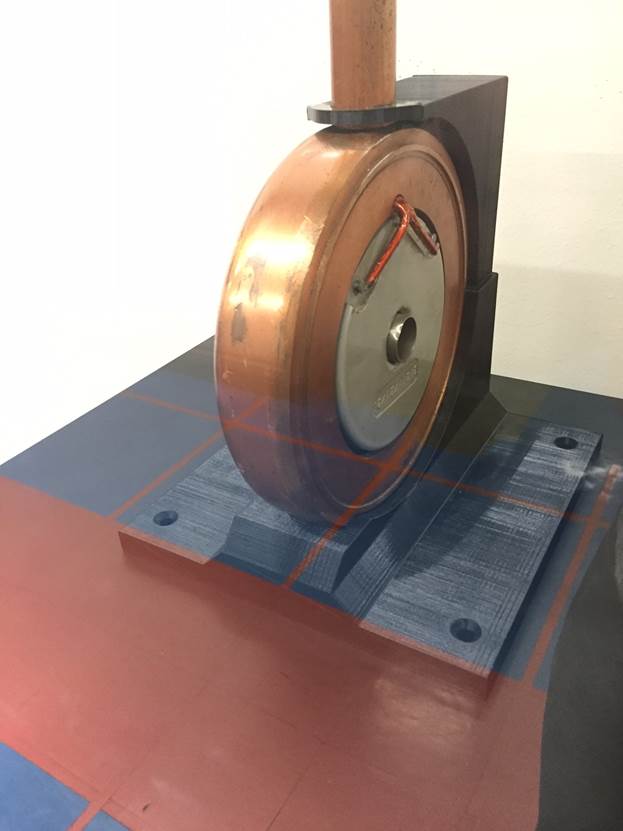 <![endif]><![if !vml]>
<![endif]>
Large Quad Lifting Mount Prototypes
The large quads in the final focus of the M4 line in the Muon Campus were unable to be lifted by the crane located in the area because the lifting fixture was too large. A solution to weld on lifting points to attach swivel hoists was developed, and 3D printing was used to make pieces for fit testing and to see if welding was possible.
<![if !vml]>
<![endif]><![if !vml]>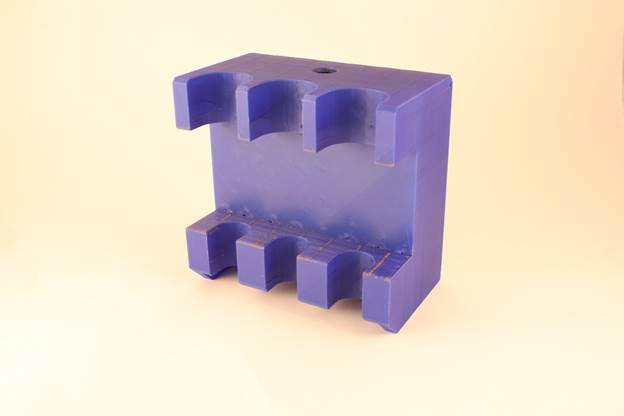 <![endif]>
Oxygen Monitor Mounts
These were used by the interlocks group to hang oxygen monitors in various locations. The circular feature is for easy placement on hooks and retrieval with long pole.
<![if !vml]>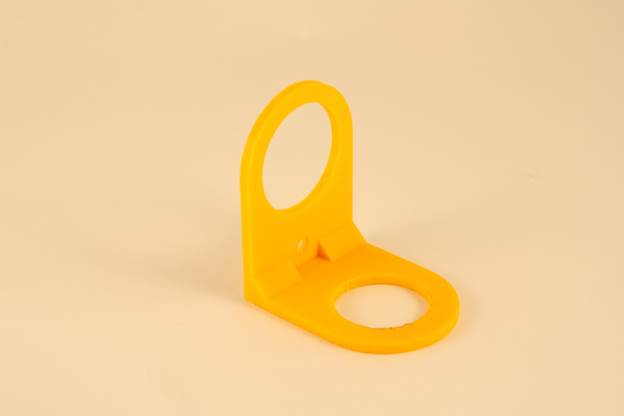 <![endif]>
Blind Bolt Mitigation Prototype Adjuster
This 3D printed assembly for a prototype adjuster was used to explore ways of increasing the safety of magnet stand adjusters and prevent the possibility of unthreading. This prototype was not chosen because it was found that the prototype had a fatal flaw. If you were to continue to extend it, it would lift itself off the platform. This design test helped the team rapidly iterate to a design that did mitigate the blind bolt issue in a satisfactory manner.
<![if !vml]>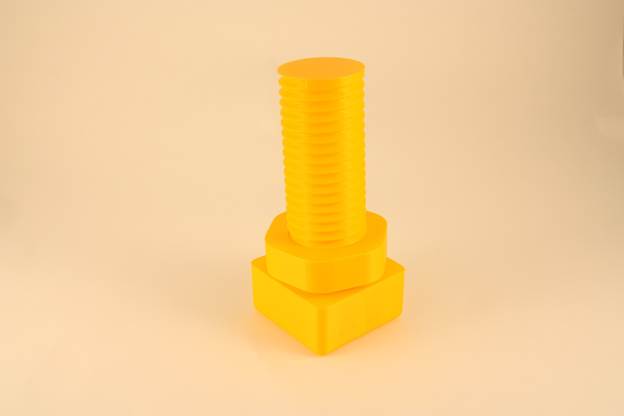 <![endif]><![if !vml]>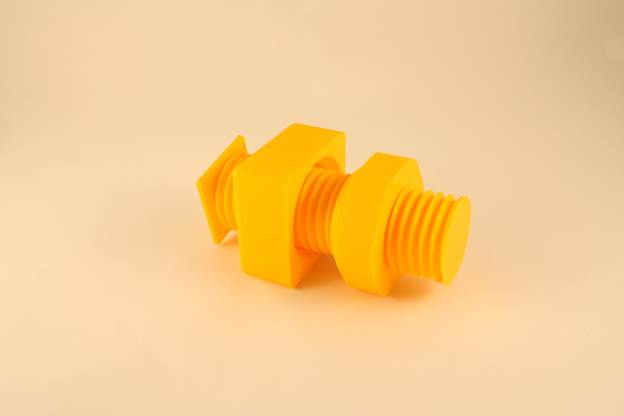 <![endif]>
STEM Outreach Marble Blaster
The Lederman Science Center requested a marble blaster for use in its outreach programs. This 3D printed mechanism shoots little metallic marbles so that students can learn how magnets affect the trajectory of a moving object. The name of the exhibit is Shape Shooter.
<![if !vml]>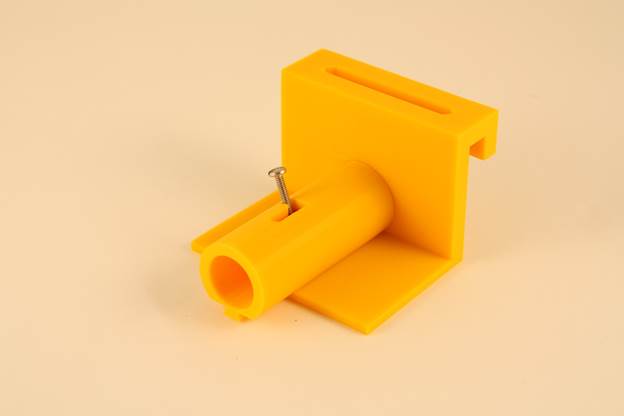 <![endif]><![if !vml]>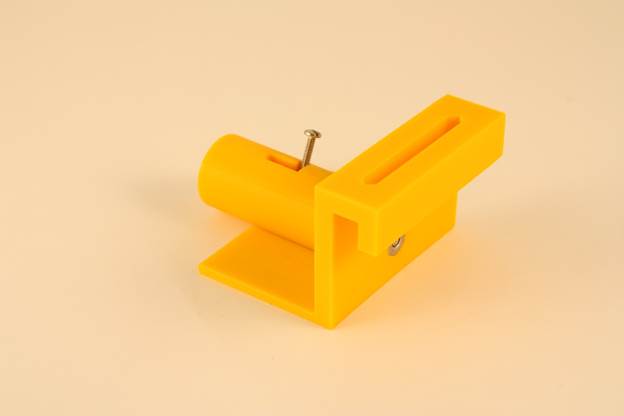 <![endif]>
Prototype Lambertson Model
To help explain the unique geometry and assembly methods on a new lambertson design, a 3D printed scale model was made. This model makes it much easier to explain design features to all of the project personnel without having to resort to verbose descriptions or confusing drawings.
<![if !vml]>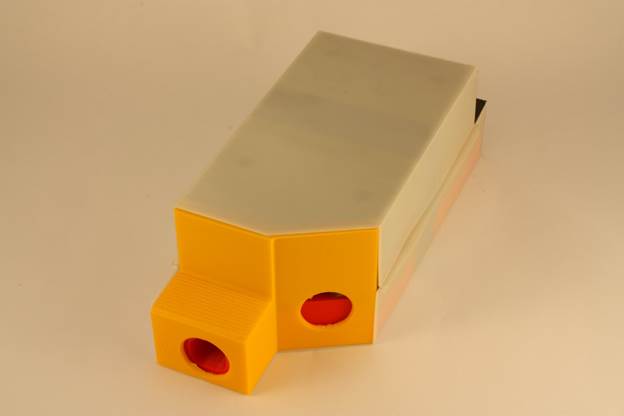 <![endif]><![if !vml]>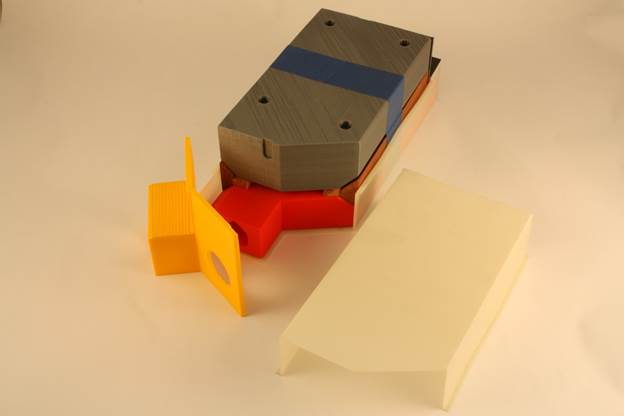 <![endif]>